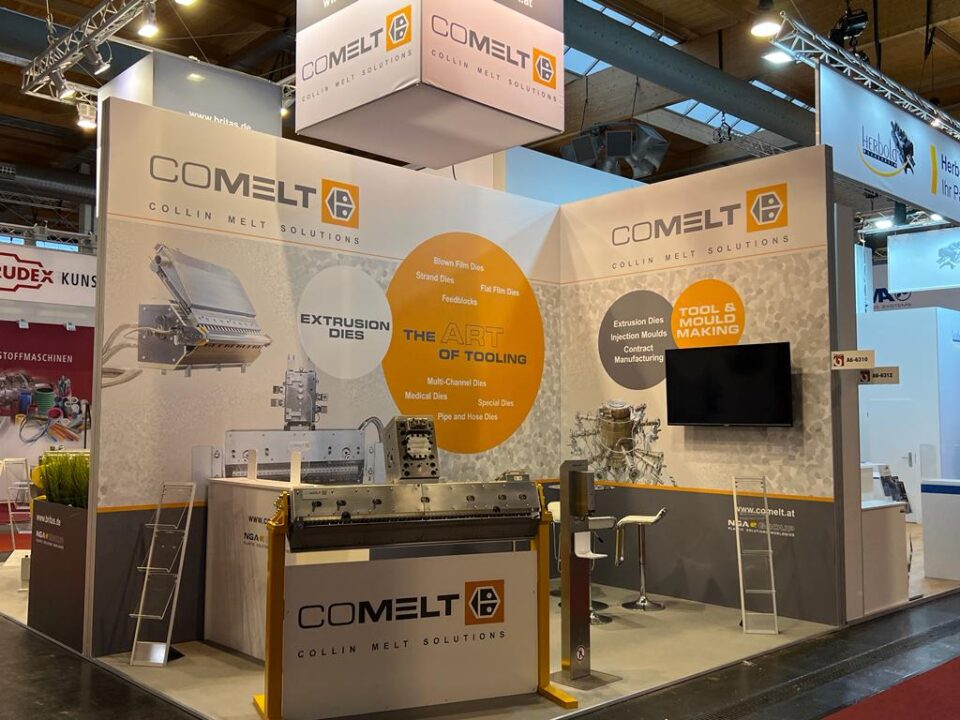 COMELT at the Fakuma, Hall A6, Booth6310:Presentation of a 1,400 mm PET extrusion die together with 3-layer feedblock at the booth
As of now, industry insider Johannes Müller responsible for international sales
At the Fakuma 2021, the Austrian COMELT GmbH shows one of its latest customer dies together with a feedblock. Contact person on site is Johannes Müller, Director Sales & Technology, who, since recently, is responsible for the sales of the COMELT extrusion dies.
During the Fakuma 2021, the COMELT GmbH presents a 1,400 mm PET die with flexible die, manual adjustment as well as a 3-layer feedblock with fixed geometry.
High proportion of recycled material is possible – flexibly adaptable to material & customer requirements
"This processing unit of feedblock with slot die is used for the coextrusion of flat films or sheets ", explain Bernhard Winter, CEO / Managing Partner COMELT and DI Dr. Friedrich Kastner, CEO / Managing Partner COMELT. A PET mixture with a high proportion of recycled material can be processed. A production thickness of the film of 150 µm to 1800 µm can be achieved.
Generally, COMELT slot dies convince with their high flexibility regarding material and die design. Furthermore, they have a wide range of applications and are available from 150 mm up to
3,000 mm. Depending on the requirement, the dies are made of standard or chrome steel, on demand, COMELT offers different coatings such as chromium nitride.
The range of products comprises mono, coex and multi-manifold slot dies as well as feedblocks, sheet dies, spinnerets and blown dies. Additionally, customers can choose from numerous features and options such as for example restrictor bars, deckling, auto die system for thermal bolts and much more.
COMELT feedblock – for multi-layer films with innovative structure
"Furthermore, for the composition of multi-layer films, we deliver different, variable feedblock systems – for the development and production of new, innovative film structures in technical centre or up to production scale. "At the Fakuma booth in Hall 6, COMELT shows a 3-layer feedblock.
Johannes Müller, new member of our team – 35 years of industry experience
One of the contact persons at the Fakuma booth is Johannes Müller, Director Sales & Technology, who, as of now, is responsible for the international sales of the COMELT product range extrusion dies. "We are very happy that Johannes Müller as an absolute industry insider is now member of our team ", explain Winter and DI Dr. Friedrich Kastner.
He has years of experience and comprehensive know how in this field. For example, Müller worked for well-known companies such as Extrusion Dies Inc. and Cloeren – in each case in the sales of slot dies and coextrusion feedblocks. At the same time, he founded the company EDS GmbH, which also focused on these topics and which was sold early in 2018.
Highest quality & 100% made in Austria
Together with the affiliated company COLLIN Lab & Pilot Solutions, which contributes plastic technological processing know how in development and design, as well as the parent company NGA Next Generation Analytics – responsible for simulations – COMELT offers slot dies at the highest stage. And 100% made in Austria.