COMELT celebrates premiere at the K 2022: Hall 1, Booth D87• Presentation of a high-end sheet die with a production width of 1850 mm
• Customizing of high-tech dies and feedblocks as major advantage COMELT for the first time at the K
For the first time, COMELT GmbH participates at the K in Düsseldorf – and presents a high-precision, flexible sheet die of the highest quality at the booth – in Hall 1, Booth D87.
"We are very happy, that COMELT is at the K to present an innovative high-end extrusion die for the first time ", explain DI Dr. Friedrich Kastner, CEO / Managing Partner COMELT and Bernhard Winter, CEO / Managing Partner COMELT.
Flexible manufacture of plastic sheets at the highest level
The sheet die with coat hanger manifold, flex lip, flex restrictor bar, sliding lower lip, lip heating and adjustable, external deckling has a slot and thus sheet production width of 1850 mm and convinces by its high flexibility, for example in production width and sheet thickness.
"With this die, our customers produce plastic sheets at the highest technical level. The die meets extreme requirements with regard to surface and appearance of the sheets produced – which, for example, are used in automotive interiors, for high-quality furniture, suitcases or also for the exhibition booth construction ", explains Johannes Müller, Director Sales & Technology COMELT.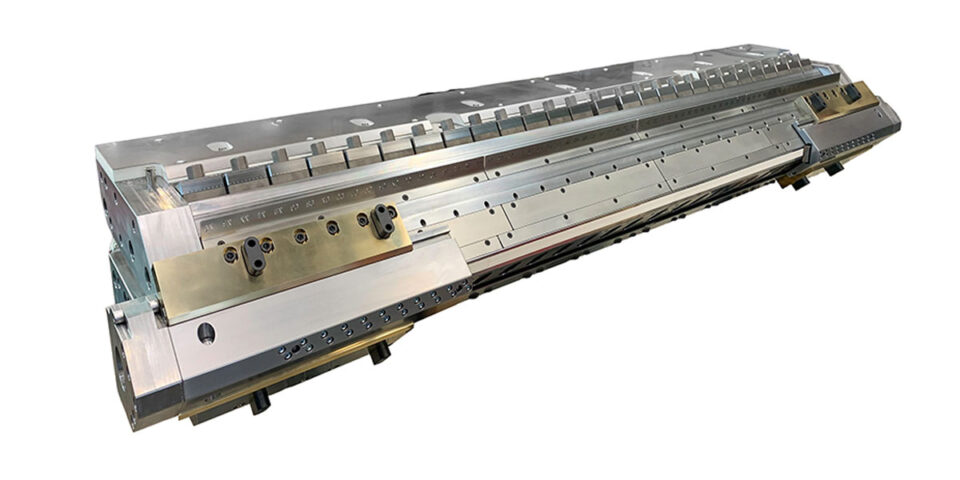 Customizing instead of standardization as one of the advantages for customers
The team of 20 employees of the Austrian COMELT convinces by customizing. The dies and feedblocks are individually designed according to the customer requirements – and that at the highest technical level.
"In principle, each of our dies is a unique piece. Of course, our focus is on the optimization resp. maximization of the quality and productivity of the customer production lines with our individual dies – following the motto: We support our customers to produce products of tomorrow even today ", says Dr. Kastner. Therefore, sustainability is very important, that means, the possibility, to process also recycling material with COMELT dies and feedblocks.
The toolmaking company, well known for highest precision and manufacturing standards, offers the entire process from the design via 3D renderings, simulations up to the mechanical manufacture, all in-house.
COMELT slot dies – wide range of applications
Generally, COMELT slot dies convince by their high flexibility with regard to material and die design. Moreover, they cover a wide range of applications and are available from 150 mm up to 3,000 mm. Depending on the requirement, the dies are made of standard or stainless steel, if required, COMELT also offers different coatings such as chromium nitrate.
The range of products includes mono, coex and multi-manifold slot dies as well as feedblocks, sheet and blown film dies and spinnerets. Furthermore, there are numerous features and options available, for example restrictor bars, deckling, auto die system for thermal bolts etc.
COMELT Feedblock – for multi-layer films with innovative structure
"For multi-layer films, we offer different, variable feedblock systems – for the development and production of new, innovative film structures in the technical centre resp. production scale. "
Highest quality & 100% made in Austria
Together with the affiliated company COLLIN Lab & Pilot Solutions, which contributes know how in plastic technology, development and design, as well as the parent company NGA Next Generation Analytics – responsible for simulations – COMELT offers slot dies at the highest level. And that 100% made in Austria.
19.-26.10.2022
Media & photo contact: Dr. Isabella Pichler, office@pichler-pr.at, M. +43 (0) 676 / 73 989 55
Further companies of the NGA Group at the K 2022
COMELT is member of the NGA Next Generation Analytics Group, which is represented by the following other companies at the K:
COLLIN Lab & Pilot Solutions GmbH in Hall 9, Booth B16, live operation – COLLIN Blown Film Line PILOT LINE BL 600 P, TEACH LINE Extruder, Compounder, Chill Roll, MEDICAL LINE Tube Line, LAB LINE Press and Roll Mill
BritAS Recycling-Anlagen GmbH – Hall 9, Booth B20 – Automatic Belt Melt Filter ABMF-PET-C & continuous Bolt Screen Changer with backflush function CMF-BF
NGA Plastic Technology Pvt. Ltd. – Hall 10, Booth H18, live operation – EASY LINE Blown Film Line, Chill Roll, Compounder, Pressure Filter Test, Extruder & Roll Mill